About Us
In the 1870's Eben E. Corliss built a summer cabin on the north shore of Clitherall Lake. By June of 1893 "Camp Corliss", now Bonnie Beach Resort was a well-established Minnesota resort for over a decade. E.E. Corliss ran the resort for 27 years and in 1909 sold the camp to Tony and Emma Marheine of Charles City, IA.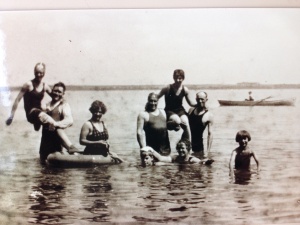 From 1910 to 1942 meals were served in the dining room. The camp was well known for their family style chicken dinners every Sunday during the summer, where guests were called in by the dinner bell.  Due to war efforts in 1942 the dining room was closed.
In 1946 Emma sold Camp Corliss to Mr and Mrs Walter Miller who changed the name to Bonnie Beach Resort after their daughter. Bernice and Charles Merten bought the resort in 1948 from the Miller's and operated the resort until 1972. Fred Crow ran the resort for two years and then sold to Shirley and Dick Peterson who ran the resort for 14 years and sold to Deb and Doug Baker in 1988.
Pat and Ron Sugden bought the resort in the spring of 1996 with their teenage daughters Tara and Megan along for the ride. In the fall of 2012 Pat and Ron began construction on new cabins. After 26 great seasons Pat and Ron sold the resort in 2022 to their daughter Megan and her husband, former dock boy, Justin and their two children Hannah and Max.  The lake and resort tradition continues as was once described in Emma Marheine's brochure from the 1930's……………… "And for every member of a family, there is fun."
We have the following policies in place to allow us to serve and accommodate our guests in a fair and safe manner. If you have any questions, please do not hesitate to contact us.
SPECIAL NOTES
1. No pets allowed2. A $300 NON-refundable deposit is required upon booking3. Arrival AFTER 3 PM

4. Departure BEFORE 8 AM

5. Guests & Visitors must Register at the Lodge upon arrival

6. Rates are subject to State and County sales tax

7. Guests are responsible for entire length of reservation

8. All rates are subject to change

9. Guests are responsible for any unjust damages to resort property

10. NO Fireworks, firearms, or ATV's/UTV's on resort property

11. Reserve all rentals when making your reservation

12. Please return all borrowed items back to lodge before departure

13. Short stays are available before 6/3/2023 and after 8/26/2023

14. All additional rentals must be turned in by 9 PM the evening prior to departure

VISITORS
All visitors must be approved prior to arrival and register upon arrival. If you are expecting day or night visitors, please make arrangements with Bonnie Beach before making arrangements with them.  Visiting hours are 10 a.m. to 10 p.m.  A $20.00 per day , per person charge for visitors will be charged. In fairness to all registered guests staying at the resort we may need to limit visitors as not to overcrowd the resort.